2020 has brought a new level of challenges for economies around the world, more like the climax of an impending recession brewing up throughout 2019. With the seemingly unending Covid-19 pandemic - individuals, organizations, nations - everyone is affected. A global demand slowdown is imminent, India has been experiencing it for quite some time now. The good news is, that this too shall pass. Winston Churchill is credited with first saying "Never let a good crisis go to waste", while approaching the end of World War II. Leaders have an important role to play right now. You are expected to carry a positive and progressive mindset and act with integrity, grace and poise while navigating the challenges that lay ahead. You must leverage this crisis to create a strong foundation for long term sustainability and rapid growth in the next few months.
Prepping your business for its next leap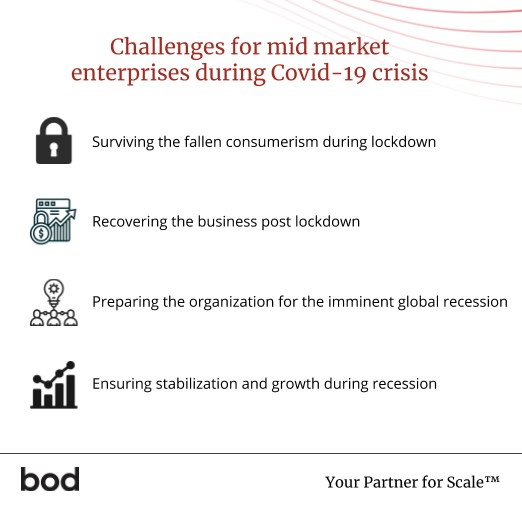 As frightening as the current crisis may appear, how leaders respond to it will decide how well their organisations will thrive once the economy starts recovering. This is especially true for mid-sized enterprises. They have a chance to emerge as potential large enterprises over the next 2-3 years. Leaders should utilise the slowdown to step back and take some strategic measures that will pay off in the long term.

At BOD, we have been working closely with several exceptional leaders from mid market enterprises (MMEs), to understand and resolve their most pressing challenges during this time. Additionally, ensuring that these organizations are ready for the new 'normal' that will set in when the markets are ready for growth again.
A blueprint for organizations to emerge even stronger from the crisis
While there won't be a one size fits all strategy for organizations to deal with the crisis, there are some common opportunities and key areas mid-market leaders should consider. The consulting team at BOD has created a 24-month long strategic blueprint that can assist organizations get back onto a rapid growth as slowdown recedes.

The 4-stages of this blueprint are developed keeping in mind the forecasted national & global economic growth scenario by FY2022. It's a structural program consisting of systematic implementation of top leadership priorities.
Stage 1: Respond - April 2020
The first stage is the mode you are in right now. As a leader it is highly imperative that you respond proactively and act decisively during this phase. The 'Respond' stage will run up until the end of April. The following workstreams need your immediate attention during this time.
1. Plan cash flow well in order to extend your runway
As businesses are paralyzed and liquidity is challenged, it becomes extremely critical to manage cash flow between essential and non-essential payouts. It becomes imperative to extend your runway assuming a painfully slow recovery to business as usual over the next few months.
2. Develop a robust business continuity plan
Survival during and post the crisis becomes the prime focus. This includes taking some hard decisions on what will run and what needs to pause. Also take steps to ensure the physical and mental well being of employees and their productive utilisation.
3. Communicate proactively with employees, customers, partners and the larger community
It is important to listen, inform, educate and motivate your key stakeholders during such times. Be empathetic. Each group will have a separate pain point that needs to be addressed proactively. Give support with an open heart and ask for help where you need it. It is an opportunity for you to strengthen your bond with them so that you can together tide over this.
4. Draft contingent HR policies
Carefully develop HR policies pertaining to work from home, paid/unpaid leaves, medical leaves, deferred salary payouts, furloughs, salary cuts, benefits, performance appraisal, etc. keeping in mind the job security of the employees as well as the current financial health of your business.
5. Plan virtual team trainings for skill building
With every crisis comes an opportunity. Use the idle time of your employees to build their capabilities. This will pay off in terms of higher productivity when business resumes to normal state. Identify relevant training, exercises and courses for each employee group and implement it proactively, with the help of digital learning resources.
6. Leverage corporate citizenship & reputation building opportunities
Identifying efficient methods of helping government authorities and communities to respond actively to the rapidly emerging situation at hand. You can do that by using your infrastructure and capabilities to produce and deliver goods and services or simply by donating money that can help in alleviating the health and economic stress.
7. Explore situational marketing opportunities
The crisis is an opportunity to get the attention of old, existing and potential clients like never before. Speak to them and offer to help. Carefully draft your value proposition in the time of this crisis and reach out to them proactively. Don't wait to be called.
Stage 2: Reimagine - May 2020 to July 2020
After the urgency of the 'Respond' stage, the next three months will require leaders to review and reorganize the business as markets reopen. This will involve taking a step back and anticipate the new shape markets are likely to take.
1. Redefine corporate strategy (for next 2 years)
The strategy you would have decided earlier would most likely be redundant after the crisis is over. This is a great time to reimagine your organization's vision and future direction of the company. This is also a great time to shed away unprofitable business lines and exit from loss making markets.
2. Re-develop AOP/ business plan (FY 20-21)
The redefined strategy and business objectives will call for the creation of a new business plan that is created keeping in mind the reality and volatility in the national & global markets. Plan multiple scenarios for a rebound (conservative, moderate and aggressive). This will be a good opportunity to realign priorities and allocate resources for the next phase of your business.
3. Redesign organization structure
Organisations carry a certain inertia depending upon their size which makes structural changes harder to implement. A slowdown reduces resistance to change and offers you an opportunity to streamline your operations. Use this time wisely to simplify the organisation structure and workflows in line with your revised business strategy.
4. Optimize capital structure
Revisit your capital structure and determine how you will finance the organization in this new light of challenges and opportunities. You will have to strike the right balance between cost of capital and maximising the value of your organization through these times.
5. Initiate a sustainable cost reduction program
Instead of letting go of employees and partners on a whim, it'll be best to lean on the business strategy and organisation structure to undertake effective and sustainable cost reduction measures. Address systemic issues, eliminating waste to establish a solid platform for gradual, long term growth and profitability. Build a culture of frugality but don't be straitjacketed and rigid, to miss out on important investment opportunities.
6. Rethink marketing approach and strategy
Given your renewed corporate strategy, it becomes imperative to rethink your marketing approach and whether your brand is geared to serving your customers in the new normal. Prioritize activities that yield the highest return on marketing spend but also those that are necessary for you to establish your renewed position in the market.
7. Reorganize the sales function
Use this time to bring back sales focus to markets and regions that are likely to yield the highest returns and are best aligned with your corporate strategy. Identify new sales leaders, give them the responsibility of energizing their teams towards achieving new goals. Don't be aggressive and add undue pressure on your team to outperform at this time.
8. Develop leaders
Crisis brings people together, it also helps natural leaders shine. Utilise this time to nurture, train and grow leaders in your organisation. Make a proactive effort to groom those who show initiative and raise their hands to take on more responsibility. Building a high quality leader takes time. Continue this journey of nurturing leaders in the subsequent stages.

Stage 3: Reinforce - August 2020 to September 2021
The 14 months of stage 3 should be spent on strengthening and building capabilities. The economy would still be in recovery mode from the slowdown. It will be the perfect time to invest in strengthening processes, hiring key resources and building capabilities which are otherwise hard to focus on during hyper active operations mode.

1. Strengthen & consolidate stakeholder relationships
As business operations take a hit during the slowdown, you will have more time on your hand. Use it to build stronger and meaningful partnerships with all your stakeholders, both internal & external. Focus your energies on strengthening these relationships through structured engagement programmes. Relationships nurtured during this phase will be the seeds for your growth in future.
2. Drive productivity enhancement programs
Productivity is the act of bringing a company closer to its goal. This is the time for building a high performance culture. Invest disproportionately on productivity enhancement rather than capacity expansion during this phase. Allocate budget to continuous training, specialisation, efficient process workflows and automation, performance improvement initiatives and team building.
3. Drive operational efficiencies & strengthen delivery capabilities
Review your operational KPIs based on your strategy and benchmark them with the best run organizations in your industry. Strengthen capabilities to deliver on your customer promise consistently. Ask yourself, what can you do to consistently get a quality product out of the door on time at the cost that can beat the competition?
4. Initiate brand transformation journey
A lot would have changed by this time. As a business, you would have undergone significant improvements while introducing new focus areas for your future growth. In order to be effective in this journey, your brand, both internally and externally needs to be in perfect alignment with your long term strategy. This is the right time to upgrade and update your brand to meet the new market reality and customer expectations.
5. Initiate digital transformation journey
This 14-month period should be utilised to identify processes and capabilities that can be simplified and automated with technology. The current crisis has a silver lining. It has been a little kinder and even beneficial to digital first businesses. This is also the perfect time for you to evaluate digital centric business models. Depending upon the size of your organisation, this may or may not be long enough to bring about a complete digital transformation, but it's certainly enough to get started and plan ahead.
6. Develop AOP/ business plan (FY 21-22)
By January 2021, you would have more clarity about the state of the market and your organisation's position in it. If you have followed this blueprint in spirit, you should be cautiously optimistic by now as you gain confidence from the fact that your business successfully withstood these testing times. This is the time to create a growth-oriented plan for the next financial year.
Stage 4: Rebound - October 2021 to March 2022
As the title suggests, the last 6 months will be spent on preparing for the next phase of growth. By now your organisation and team would be ready to drive rapid growth, and the slowdown created by the pandemic would have receded. After investing attention and focus on work streams of highest importance to your business over the last 18 months, it's now time to rebound by planning ahead assertively.
1. Develop business expansion strategy
Select the right PMR fit (Product-Market-Region) such that the business would expand and grow profitably during the much anticipated growth cycle. This should include diligent deliberation about entering into new business lines, new ventures, new markets, new products and new regions.
2. Develop AOP/business plan/CapEx plan for growth (FY 22-23)
Develop a comprehensive & highly focused AOP by clearly identifying the direct, indirect, fixed & variable expenses required to grow the business during the rebound stage. CapEx decisions should be prioritized and planned for in order to capitalize on increasing demand generation.
3. Create hiring plan for growth
Rapid growth in the months to come will place strain on your existing team members who have dedicatedly preserved during the tough times to help your organization reach a stable state. It is time to provide them relief and reinforcement. Create a hiring plan for leadership, managerial and entry level positions. The recruitment timelines & budget should be clearly defined to match with your growth forecast.
4. Develop marketing strategy for aggressive customer acquisition
In the last few months you learnt to maximise productivity and ROI on your expenditure. The marketing focus and capabilities you built has put you in a strong position to capitalize on growth opportunities in front of you. This is the time for rapid growth and will need fresh allocation of capital to support new customer acquisition. Do practice the hard learnt prudence in spending but don't hold back on your instincts to move swiftly and capture market share.
5. Raise growth capital
Develop a timely plan to raise growth capital necessary to capitalize on the opportunities on offer. However, focus on maintaining the optimal capital structure and don't over leverage your organization to meet growth needs. Prioritize strength of balance sheet over reckless growth. Be aggressive in planning for a high growth momentum but balance it out with the prudence of positive unit economics and sufficient profitability to ensure you are positive on cash at all times.

In Conclusion
As a business leader you might be in the 'Respond' mode already with the future of your organisation on your mind. This strategic blueprint should help you prioritize the work streams important for your organisation. There may be some reprioritization of work streams and the duration allocated to them both within and between stages based on how the Covid-19 situation evolves over the next few weeks and months. Utilise this slowdown period as a wonderful opportunity to reset, reimagine and reinvigorate your organisation to steer it in the right direction for the future. 
---
As a leader, how are you responding to the current crisis? How is it going to impact your organisation's future? If you feel alone navigating these tough times or feel the need for a structured approach and an active professional support in order to implement this blueprint for your organisation, do not hesitate to reach out to our Managing Partner, Saurabh at saurabh.uboweja@bod.consulting for a conversation.
Authored by Saurabh Uboweja, Sugandh Dhawan, Somil Makhija, Nikita Madan, Sachin Pande and Shreya Patil

BOD solves big problems for mid market enterprises to help them become large.
We partner with mid-sized firms across industries to solve their most pressing business challenges, unlock value creation and implement transformative solutions to help them compete sustainably at the highest level.
Contact BOD

How can we help you?