Job Location:
Mumbai
New Delhi
Writer
Role in a snapshot
As a writer at BOD, you will get an opportunity to work on exciting branding and marketing
projects for companies across multiple industries, including FMCG, Energy, Enterprise
SaaS, Education, Arts & Entertainment, Nonprofits, and Technology. These projects may
involve strategic brand creation, rebranding, brand enrollment, and more.

You will collaborate with an interdisciplinary team of writers, management consultants,
designers, marketing professionals, and digital strategists that values transparency,
discipline, accountability, and a passion for learning and growth. You will deliver impactful
pieces that meet the client's business needs and catapult their brands and businesses to
greater success.

You will be trained to solve business problems with the help of effective writing. Your
content/ideas will capture the attention of the target audience and communicate the
right message with impact. With experience, you will learn to independently lead writing
assignments covering verbal identities, internal and external communications, website
and app content, product packaging copy, social media content, print media content and
other marketing collateral, and more.

Not only will you hone your writing skills with each project experience but will also learn
how to present your work to both internal and external stakeholders, growing your
influence-building skills. You will face the challenge and satisfaction of having your work
with clients published and experienced firsthand, which will give you a sense of pride in
contributing to their success.
As a BODian, you will experience a work culture that is agile to accommodate your needs
at different stages of your life and career. We consciously ensure that you have sufficient
time for yourself, your friends and your family to have a life beyond work.

Assess if we are the right fit for you
You are a self-starter with the ability to empathise with client requirements and business
contexts, while also being open to guidance and direction. You have the desire to explore
and understand the content requirements of an increasingly phygital business landscape
and the fascinating world of brands, to create solutions that not only excel in creative
thinking but also tie together business needs and client requirements.
You are quality-conscious and pay attention to the small details that make the difference
between above-average and extraordinary outputs. You are process-conscious in how
you approach your work and can create versatile and unique content for different
business contexts while collaborating effectively with your team. This is why our clients
trust us to work on their most exciting challenges and opportunities.
Most of the projects you will work on will require a meaningful understanding of the
client's context. You are open to working in a hybrid environment, including virtual, office,
as necessary to meet project goals. You should leverage your emotional intelligence to
navigate ambiguous client and project situations and be able to manage 2-3 assignments
at a time effectively.

Why should you consider us?
BOD could be the big chance that you are looking for. We believe in giving the right talent
a chance to deliver and realise their full potential.
Do you believe that to do high-quality work and make a meaningful contribution
while navigating your growth, you don't need to constantly hustle, work long
hours, and deal with organisational politics? We are just like you. At BOD, we firmly
believe that you don't have to sacrifice your health for work, compromise your
integrity to grow or constantly act like a hustler to prove your worth. We enjoy our
work. We like to work calmly. We select clients and projects that allow us to thrive
and contribute without creating high-pressure situations, now and then.
Do you want to continuously grow as an individual and as a professional? We
nurture masters who realise their full potential and can change the world around
them with the help of their unique superpowers. At BOD, we appreciate and
acknowledge individual growth goals, and do our best to help you become your
best self at work. Together, we can capitalise on your strengths and work on your
weaknesses without judgement.
Do you think regular exposure to multiple industries to create a diversity of writing
pieces enhances your creative output and helps you grow in your field? Our writers
are just like you. We support each other to grow professionally. We brainstorm with
each other and help you improve your work with every new project.
Do you want to experience how great organisations are built to last? Do you want
to play an integral role in doing that, creating your legacy in the process? BOD
creates opportunities for you to work with some of India's finest leaders and
founders, who are looking to digitise, scale or build their organisations. You can do
that here without limiting yourself to working for any one company, leader or
particular industry.
Do you believe in the virtue of giving back by helping build BOD as an organisation
you are constantly proud of? If you like what we have created, and how we have
grown, it is only because of BODians like you who have voluntarily contributed to
building and nurturing the organisation. While it's not an obligation, most BODians
feel excited and empowered to build BOD brick-by-brick bringing their own
uniqueness to it.
Do you think work is a part of life and not the other way around? We think so too. At
BOD, we believe great work can happen in tandem with a healthy & happy personal
life. With our culture centred on the lives of our people, their friends and families,
we give you a supportive environment and a chance to live a holistic life along with
a career you can be proud of.
Assess your readiness for this role
These are some areas that we would like you to assess yourself before applying for this
role. Our expert interview panel will also spend time with you to jointly assess how ready
you are to take up this opportunity.
Bachelors in a relevant field (i.e. Communications, Marketing, Journalism, etc.) or
equivalent work experience.
1-4 years of experience as a Content Writer/Copywriter on small to midsize
accounts.
Capability to deep dive into problem-solving.
Commitment to excellence, personal and professional growth and an eagerness to
learn.
Ability to work independently, in a non-hierarchical setup, with a high tolerance for
ambiguity.
Strong analytical skills, structured thinking and incisive planning with a focus on
detailing.
Communication skills in a clear, persuasive way with an effective client presence.
Ability to build strong and trustworthy relationships with internal and external
stakeholders and to effectively contribute to a highly collaborative environment.
Good judgement, strong integrity, maturity and fairness in dealing with people and
confidential information.
Job Responsibilities
The writer will be responsible for creating high-quality, on-point content for a variety of
touchpoints including, but not limited to, brand identity, communication and experience
design. They must ensure that the content is aligned with the overall brand strategy and
resonates with the target audience. Here are some responsibilities that would fall on you
if you were to join us:
Create quality content that aligns with the brand and business objectives of
clients, as well as the brand voice and tone, for a variety of industries/audiences.
Participate in the creation of brand nomenclature, tagline, TOV (tone of voice), and
strategic write-ups for the brand, potentially assisting with research, writing,
editing, or all of the above.
Other kinds of content pieces you will get to work on include brand stories, social,
web and app content, brochures, flyers, newsletters, presentations, ads, etc.
Collaborate with brand strategists, brand consultants, designers and fellow
writers for the execution of short-term and long-term content output for clients.
Manage multiple projects and competing priorities seamlessly, with the guidance of senior writers.
Stay up-to-date on market trends and competitors, including tactics, field concepts, and practices.
Ensure brand consistency in all creative efforts.
Career growth path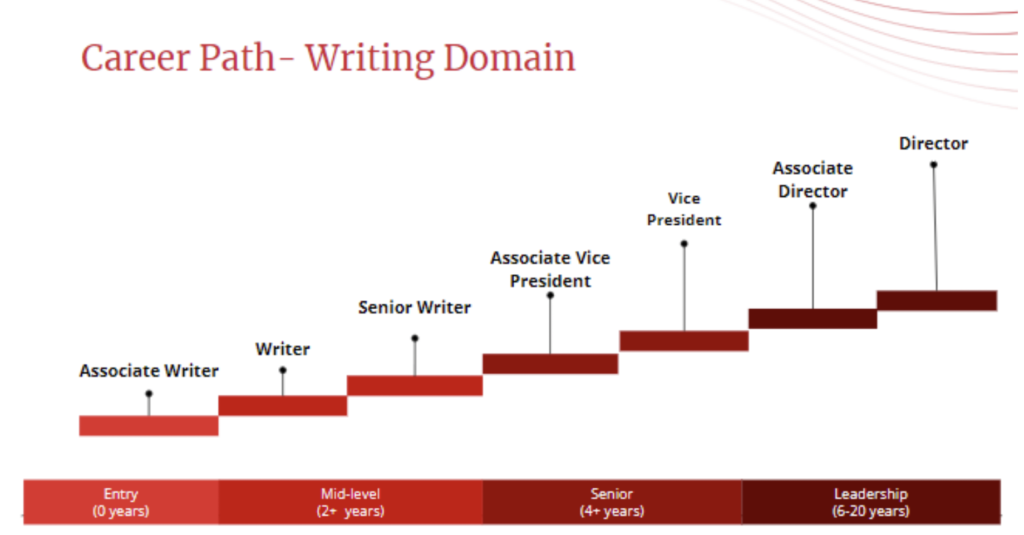 Sorry! This job has expired.